Passion for the pedaling routes.
Biking Through Spain is a company specialized in cycle touring and Mountain Bike tours. Our routes are designed to profoundly enjoy the most spectacular and natural surroundings of our geography. Our activities are not only for more experienced cyclists but also those who want to begin cycle-tourism as a means of travel.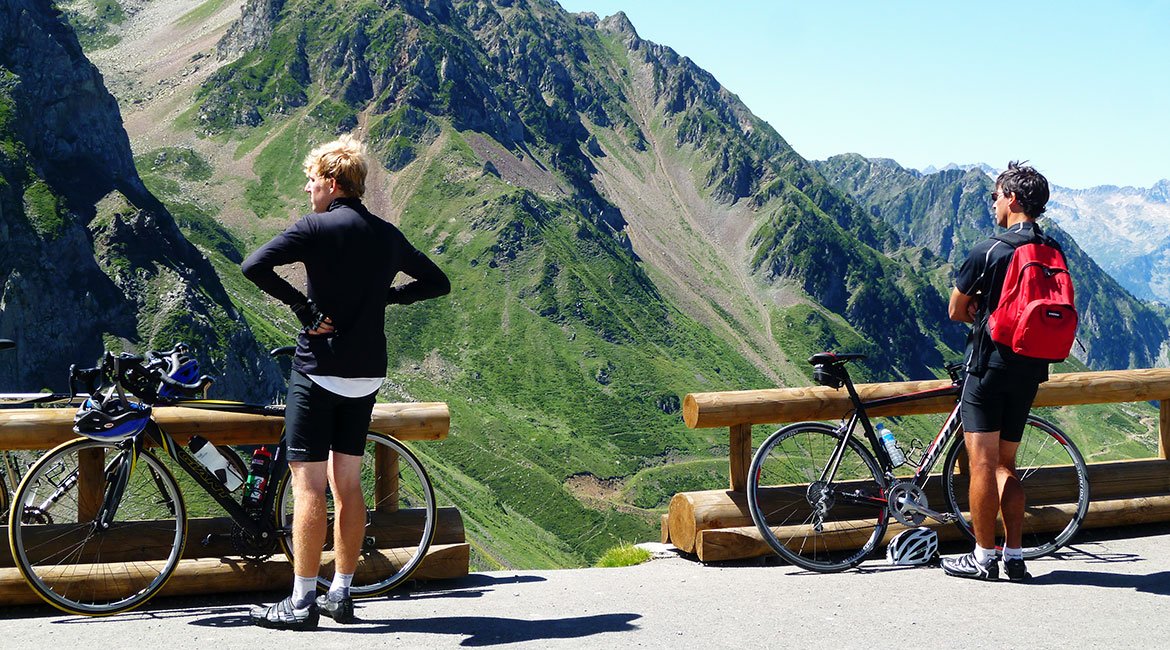 The reasons behind Biking Through Spain
For several years we have enjoyed traveling by bike. We love seeing the paths, streets and routes every time more frequented by this small, ancient and lovely vehicle which generates healthy ecologic circulation and lends itself to positive attitude.
For quite some time we have traveled on bikes through several countries and we know the necessities of this kind of active tourism: transporting of bikes, maintenance, assistance, searching for the most peaceful routes etc.
We get pleasure going through the most beautiful landscapes of the regions and love learning about them through travel. Experiencing the regions, their cultures, art, gastronomy and people.
We mainly search for sustainable lodging with ecological local products, bike friendly and people deeply rooted in the regions.
We want to completely immerse ourselves in nature and for this provide knowledge of the areas, design and optimal planning of routes and skill levels
Our country has a richness of natural resources, landscapes and cultures of great diversity.
For all these reasons and for you we created Biking Through Spain.
ISMAEL. Founder of Biking Through Spain. He has enjoyed climbing the Pyrenees since childhood. Measuring himself against the most beautiful mountains of the Alps as a youth and crossing the Karakorum as an adult to feel Stendhal's syndrome when faced with the most savage aspects of nature.
He has jogged through forests and trails in addition to running several marathons. Since the 90's he has continually traveled by bike, trips which have taken him across the Pyrenees from sea to sea, through French Brittany by its varied routes, going down from the Alps to Rome by old pilgrimage routes and the diverse paths of "The Santiago Way".
XABIER. Restless spirit, graduated in Physical Education, Mountain and Ski Guide besides being a Guide Trainer with ample experience in his background. He has worked in Catalonia and Basque Country and has gone through five continents biking, walking and skiing. As a guide he has worked in the Pyrenees, Alps and of course in his native region, Basque Country, which he knows like the back of his hand.
JOSU. Young Basque athlete who since childhood has ridden a bike. His main sports are swimming and water polo in which he has reached top levels in addition to participating in several open sea crossings.
On bikes he prefers long distance and downhill, the latter is a trend which in recent years has been gathering popularity. Josu is a member of the BetiBehera Downhill Team which has done various races such as Sant Andreu de la Barca, Morata de Tajuña and last but certainly not least the Bilbao City World Tour in competition with top professional riders.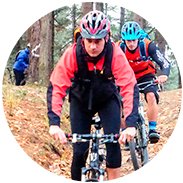 IKER. Lover of mountains, adrenaline, open-air work and travel. Graduated in Physical Education, Ski Monitor, Telemark and Rafting Guide. He loves all kinds of mountain activities. Currently working in the Pyrenees, but will never renounce his beloved Basque Country. He has done several long cycle touring routes such as Granada- North Coast Berlin and Bilbao- South Coast Slovenia. Lately he loves trail more without ignoring the great routes that will come in the future.
JAVIER. Sportsman, traveler and adventurer by nature. Cycle Touring is one of his great passions. He enjoys sharing spectacular landscapes, touching stories and great moments with our clients. Expert in the design and management of turistic structures, and good designer of bike trails & paths for different profiles and zones of our geography.
JOSE. He began his mountaineering experience in Basque Country. Nature and everything around it has opened a world of sensations that he never tires of exploring. He has done trekking and climbing in North and South America, North Africa, the Himalayas and all of Europe. He also does mountain and alpine skiing. He knows the Bizkaia region and other important geographical routes well by MTB. His main passion is doing routes, even though from time to time he gets the urge for competition and participates in some alpine XC and Duathlons. He has professional training as a Mountain and Mountain Bike Guide. If you want to enjoy a memorable experience Jose will help you achieve it.
* All of our Guides have official degrees as Bicycle Guides (AFDA0109). Itineraries in Bike Guides. (RD 1209/2009 17th of July, modified by the RD 711/2011, 20th of May).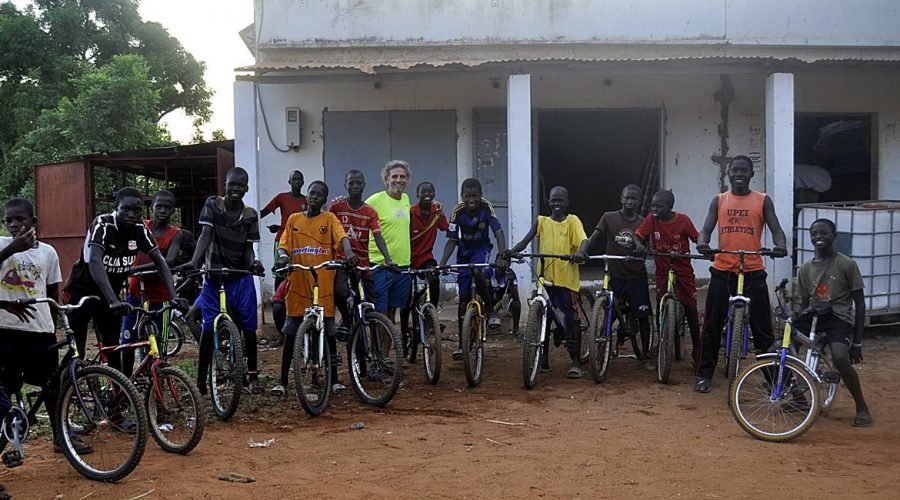 We collaborate with Bicycles without borders because we feel committed to and motivated by their project. The fact that a bicycle is a basic tool to gain access to knowledge creates ties between our projects.
BWB, in its current work, is making it possible for 800 Senegalese boys and girls to avoid daily walking on a dusty path in 104 degree heat to arrive to school. Having a bike means using 5 times less energy than walking and in many cases this is the difference between getting and education or not.
We dedicate a part of our earnings to promote BWB's programs and through our site we'll be doing specific actions in which everyone can collaborate.
What do our customers say?
 Your opinion is important to us. 
Here you can see what our customers are saying. 
Click on the logos to see the opinions and send us yours!