The Pyrenees represent the mythical environment where we satisfy some of our thirst for adventure. The great mountain range sets the stage for the coexistence of diverse physical and cultural landscapes, which represent a longer and more intense journey than is apparent if you were only to consider its measured length. The Pyrenees' great dimensions suggest having to travel through hundreds of different valleys, with thousands of attractive routes for practicing MTB and tour-cycling.
Some of them are framed by the aura of the epical mythical ports of the Tour de France, also by the Transpyrenean MTB competitions that attract competitors from all over the world and the hundreds of itineraries that cross the valleys on either side of the border.
Once again, Biking Through Spain launches the two most classic routes that crossing the Pyrenees on bike:
On June 22nd we will start our journey on the impressive foothills of Cap de Creus and cross over to Viella, where we will arrive on the 30th. It is the Great Crossing of the Catalan Pyrenees in BTT that will search for the maximum level heights of the range, in a novel and challenging route that Jordi Laparra has redesigned. 8 stages between 70 and 80 km and between 1600 and 2500 metres of accumulated altitude. An attractive challenge that our assistance service makes much more affordable.
On August 20nd we will start a new edition.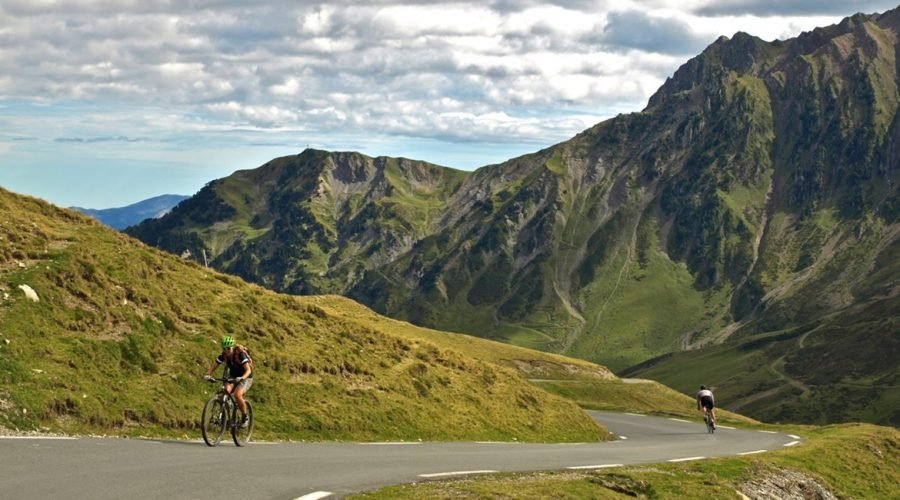 On July 14th we will leave Viella to tackle the route of the Mythical Ports of the Pyrenees, the great ports that all fans crave to cross: Peyresourde, Aspin, Aubisque, Tourmalet, … ports that are engraved in the memory of many due to the great deeds that have been done since the creation of the Tour at the beginning of the 20th century.
During these two tours we will be accompanied and assisted by the experienced cyclist, Sergi Fernández Tolosa, who will help the group to achieve its goal.
Registration for these tours is open and we advise you to sign up quickly as both groups will be small, maximum 8 participants.